About Us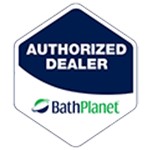 Whether you're planning for an entire bathroom renovation or a simple walk-in tub replacement, Bath Planet of Southern Oregon has the experienced professionals and state-of-the-art equipment to bring your plans to life. Since 1999, we've installed superior products for cleaner, more durable, and more beautiful bathrooms.
From our stylish wall surrounds to our quick bath liner installations, we work with the most durable acrylic on the market. Tested and approved by the Good Housekeeping Seal, this acrylic stays strong for years and resists mold, mildew, scratches, and cracks. Installed by our skilled Southern Oregon remodelers, your new bathroom will look great with minimal cleaning or repairs.
Above all, we're committed to providing an easy, affordable, and customized renovation. Our designers will help tailor each product to your budget, décor, and needs, ensuring that your bathroom looks even better than you expected. With over 15 years of experience, our Southern Oregon remodelers are equipped to finish your installation in as little as one day.
At Bath Planet of Southern Oregon, we believe that beautiful bathrooms are possible for all, and we're here to make it happen for you. Get in touch now to request your free, no-obligation consultation and cost estimate!
Serving: