About Us
Bath Planet of Milwaukee is on the leading edge of design and durability, providing homes with high-quality bathroom remodeling options since 1999. When it comes to redesigning bathrooms, no company offers the quality that we do. Our services feature everything from single-threshold showers to walk-in bathtubs, and more. Our expertise in the field is unparalleled, ensuring a beautiful space that's built to last.
Featuring top-tier acrylics from renowned Bath Planet, our Milwaukee bathroom remodelers can turn your bathroom into the stunning space you've always wanted in as little as one day. Best of all, our bathrooms are designed to fit your unique needs. We offer a wide range of customizable options to choose from, including colors, patterns, hardware, and accessories, all designed to give your bathroom your personal touch.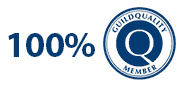 Our mission is to bring stunning bathrooms into every household in Milwaukee and beyond, and we work every day to exceed expectations with impeccable design and workmanship. Whether you're looking to completely revamp your space or simply make it ADA-compliant, our Milwaukee remodelers can get the job done.
Call Bath Planet of Milwaukee today to request a free bathroom remodeling service quote. Our experts are ready to make the bathroom of your dreams a reality.