About Us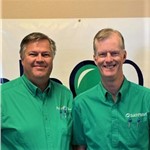 Visit our showroom or contact us today to schedule a no-cost, In-home consultation.
Come by and visit our showroom at 6021 W. Franklin and see why we are the highest rated bath remodeling company in the Treasure Valley. Showroom open M-F 8a-5p. We have all of the resources you need to make your dream bathroom a reality. From state-of-the-art walk-in bathtubs to a wide variety of tub and shower replacement options, our products and expertise will make your bathroom remodeling project perfectly matched to your needs. Our quality acrylic materials come in a variety of colors, patterns, and styles, ensuring that you can customize your bathroom to your liking. We can even finish your bathroom project in as little as 1-2 days so that you can get back to your routine with ease. We are not one of those remodelers that places our wall material over the top of your old walls. We completely remove your existing wall material (tile, fiberglass, etc) down to the framing and start fresh from there. We even replace all of the old plumbing. Our commitment to providing beautiful bathrooms will ensure that you enjoy your bathroom for years to come! No matter if you are just looking for a fresh update or need to make your bathroom safer and more accessible, we are the right professionals for the job. Time to give yourself the bathroom you deserve. Get in touch with us today for a free estimate on your bathroom remodel project!
Read Our Reviews - See why people love Bath Planet of Southern Idaho!
Our Letter to Customers Regarding Coronavirus (COVID-19)
Dear Valued Customers,
We take your and our team's health and safety very seriously as this is a top priority at Bath Planet of Southern Idaho. We understand any concerns you might have about the Coronavirus (COVID-19) and are 100% committed to being responsive and responsible to you, our customers.
We are following the recommendations of the CDC (Centers for Disease Control) and are taking extra safety measures and precautions for all our Office Employees, Design Consultants, Field Technicians and Installers.
Please contact us for any services at (208) 505-6760.
Bob Haycock
Owner
For additional information about COVID-19, visit the CDC website at www.cdc.gov