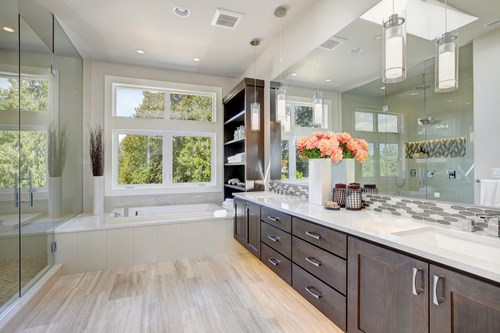 Looking for summer bathroom remodeling ideas? Bath Planet of Knoxville has been busy tweaking, perfecting, and totally revamping bathrooms over the last few months, and in doing so, our bathroom contractors have noticed a few increasingly popular trends. Browse the list below for some exciting inspiration!
1. Mosaic Tiling
Tiles have come back in a big way, with many homeowners opting for dramatic, floor-to-ceiling tile installations. Choose small tiles for a subway-inspired mosaic look, or go for large, irregularly shaped tiles for something organic and earthy.
Bonus Tip: If you love the look of tile but hate the messy grout and difficult upkeep, consider imprinted tile wall surrounds like ours at Bath Planet of Knoxville. Our durable acrylic is made to look just like real tiling but without all that mold, grimy grout, and broken ceramic.
2. Plenty of Storage
Fortunately, the tendency toward minimal storage has finally come to end—maybe because homeowners have realized how inconvenient a bathroom can be without space for towels, toilet paper, and extrashampoo!
For your bathroom remodeling project, don't shy away from adding tons of storage, both inside the bathing area and around the vanity. You can even build your soap caddies and shelf towers right into your tub or shower!
3. Monochrome Palettes
Another hot bathroom remodeling trend is the use of monochromatic colors, especially in airy whites and dark grays. Monochrome color schemes look effortlessly stylish, and they can always be complemented by bright towels or pops of artwork if you get tired of the same old thing.
4. Bright Colors
One on the other hand, our bathroom contractors have also noticed a tendency toward bright colors. Gone are the days of pastel blues and barely-there greens; many households are choosing true colors like poppy red and canary yellow.
Bonus Tip: With this bathroom remodeling trend, it's especially important to consider your future plans. If you may resell your home soon, you're probably better off sticking to something more traditional, as many potential buyers may dislike extraordinarily bright colors.
5. One Day Bath Remodel Services
As families become busier, one trend has definitely emerged: the one day bath remodel. Rather than spend weeks without a working bathroom, many bathroom contractors—like Bath Planet of Knoxville—are saving their clients time and money with elegant, customized bathroom remodeling done in one day.
Ready to Bring These Trends Into Your Bathroom Remodeling? Contact Us Today
Above all, remember this: Although the above-mentioned bathroom remodeling trends are hot right now, the best bath design will ultimately depend on you. You should always prioritize your preferred style and functionality over any seasonal trends!
If you need some guidance designing your unique bathing environment, don't hesitate to reach out to your local bathroom contractors at Bath Planet of Knoxville. Find out how we can bring your muted, bright, retro, or contemporary vision to life by giving us a call today! You can also sign up for a free one day bath remodel consultation by filling out our online form now.
---
Tags
Bathroom Remodel
bathroom contractors
one day bath remodel
---
Comments