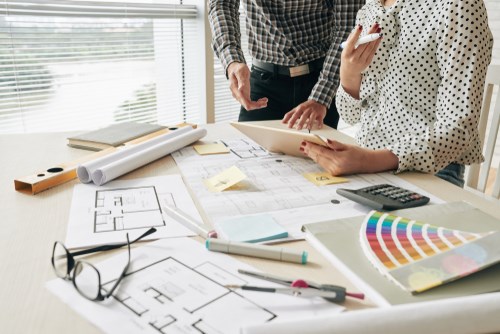 Bathroom remodeling is one of the most popular home renovation projects among homeowners all over the country—and a wonderful way to improve the quality and value of your home. If you're planning to upgrade or renovate your bath area in the near future, it's a good idea to learn all that you can about the process and how to get the best outcome possible for your investment.
Perhaps the most important decision you'll make that will safeguard the quality of your bathroom remodel is the company you choose to work with. Contractors are a dime a dozen—and unfortunately, a surprisingly high number of them are unqualified, inexperienced, or even fraudulent.
Avoiding a bad contractor isn't difficult—and involves plenty of research, several consultations, and thorough consideration of your options. In this article, our expert team of contractors at Bath Planet shares some of our favorite tips on finding the best bathroom contractor you can find, for results that truly exceed your expectations.
Word of Mouth: Referrals from Your Social Circles
One of the best ways to learn about a good bathroom remodeling company is through word of mouth or referrals from family, friends, co-workers, neighbors, or acquaintances. People you know who have firsthand experience with a contractor can provide valuable insight regarding the way the professionals work, the outcome, and the overall experience.
Surf the Web: Find Companies on the Internet
With the rapid advancement of technology and digitization, most legitimate bathroom remodelers have a strong online presence. With this, you can find professional bathroom remodelers by simply researching Google for bathroom remodeling companies.
However, when doing so, make sure that you specify your location in your search to get results that reflect the companies in your area. Aside from checking the business profile or official company website, don't forget to check client feedback online, the registration and license of the company, as well as a portfolio of previous projects.
Local Newspaper's Classified Ads
Back in the days before the internet, people relied on the classified ads to find local services they needed. While it might seem hard to believe, newspapers are still a thing—and most classified sections are, too. For local businesses, check the classified listings to find options near you. Once you find potential contractors, you can work with, research more online or set a meeting with them to learn more about their company and offerings.
Referrals from Local Professional Organization
You can easily find bathroom remodeling companies with a solid reputation by turning to trusted entities such as local builders associations, your local business bureau, or other official organizations for bathroom remodelers in your area. Trusted professionals from the real estate industry will also surely be able to provide excellent recommendations as well.
However, it is highly advisable to obtain bids from at least three contractors so you can carefully gauge your options, and make the best choice possible.
The Most Reliable Bathroom Remodeling Company
If you're looking for a reliable bathroom remodeling company with decades of professional experience in the industry, contact Bath Planet for your bath renovation needs. With the help of our team of professionals, we expertly install durable materials and bathroom fixtures at reasonable rates.
Whether you're interested in a luxury spa transformation, a lightning-fast, one-day remodel, a quick bath conversion, or something else—rest assured that Bath Planet has what it takes to deliver the results you want at a price you can afford.
For a complete list and more details on the services that we offer, call or email Bath Planet today. You may also contact us by filling out this online form and requesting a no-obligation in-home estimate.
---
Comments