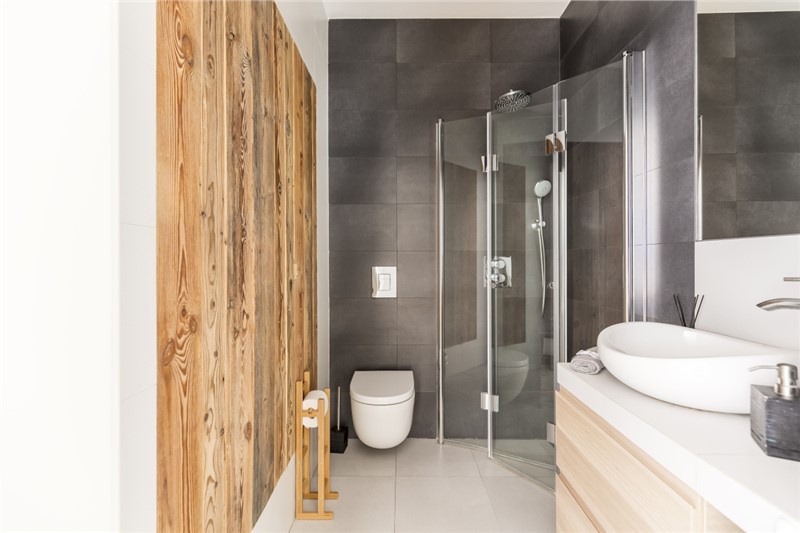 Bathroom redesigns are always popular home improvement projects, as American homeowners are aware of the serious benefits a bath remodel can offer your home. A fully functional, beautiful, modern bathroom will not only make your home a much better place to live, but it's also a great way to enhance your home's appraisal value when it's time to resell.

This, of course, rests on the quality of the finished result. It goes without saying that a poorly renovated bathroom can detract from the value of your home, instead of adding to it. This is why it's so important to hire professional contractors that can guarantee perfect results—both for the bathroom's function, as well as its design.

Choosing the right bathroom redesign depends on a variety of factors, including your existing home décor, your budget, and your own personal tastes and style preferences. A great way to get inspired about your bathroom remodel is to research the newest trends and ideas to begin forming an idea of what you want. If you're hoping to renovate your bathroom this year, take a look at some of the most popular bathroom designs we've seen so far in 2019, brought to you by our expert bathroom remodeling team at Bath Planet.
Smart Home Features
Perhaps this isn't a 2019 thing—smart home features have been steadily making their splash in US homes for at least five years now. But in 2019, bathroom redesigns featuring smart fixture replacements are at the top of their game when it comes to bathrooms, and are taking over lighting, flooring, toilets, sinks, showers, and bathtubs with newer and better technology.

Homeowners are making their bathrooms smarter than ever before, with LED touch lights and dimmers, heated flooring, automatic sinks, energy-saving faucets, and our favorite—high tech toilets. A smarter home is a smart investment, not only working to increase your home value but to reduce your monthly lighting and water bills as well.
Back to Black
Warm earth tones of white, beige, brown, mauve and even burnt sienna have long represented the go-to color schemes for bathrooms for at least two decades. Recently, however, we've noticed a strong trend in using the color black to decorate entire walls, tile floors, and even toilets, showers, sinks, and bathtubs.

Using a black décor theme will require some serious artistic eye to pull off, however. We've seen our fair of black bathroom DIY disasters, as it's very easy to turn your bathroom into a dark, depressing dungeon if you're not careful. A professional, experienced bath designer can provide you with tips on using black to decorate if you're interested in updating your bathroom with the sophisticated elegance of this modern and trendy look.
Earthy Accents
When we say "earthy accents" here, we're not talking about an earth-toned color palette. We mean actual earthy materials—like stone, brick, wood, or marble accent walls, flooring, or trim. Wood, in particular, is making a huge appearance in bathrooms in the USA. While wood accents will require a bit of maintenance to keep from becoming damaged, the look is high-end, classic, and downright beautiful (and worth the extra time spent on upkeep, in our opinion).
Crisp and Clean
While warm earth tones—like beige, brown, and other shades of off-white are out, crisp, clean color combinations are in. Think white walls and light gray vanity sinks, or hunter green or navy blue paired with clean, white trim. This look is especially used to lighten up and give character to minimalist décor styles, to avoid the too-serious, bare-bones, boring appearance that minimalist designs (which are also popular these days) can sometimes give off.
Unique Sinks
The focal point of most bathrooms is the vanity, which tends to draw the eye's attention upon entering a bathroom space. It makes sense then that sinks are the focus for many bathrooms in 2019, and homeowners are choosing from a wide variety of models, designs, and striking colors to create unique and attention-grabbing looks. From the vessel sink to the semi-pedestal sink, wall-mounted sinks, and floating vanity sinks—the sink is an excellent way to add style and personality to your bathroom's design.
Choosing the Right Bath Design Company
No matter what look you choose in 2019, the contractor you use to design and install your bathroom upgrades is by far the most critical aspect of your bathroom remodeling project. The right bathroom design company will be able to show you exactly how to create the perfect space that's functional, beautiful, and that's guaranteed to add serious value to your home for decades into the future.
If you're looking for the perfect bath company to help you create the bathroom space of your dreams, Bath Planet is here for you with everything you need to plan a successful, affordable, simply gorgeous bathroom redesign. Whether you're interested in replacing your shower or tub, bath conversion, installing a walk-in tub or changing your bathroom's vanity, you can count on us to deliver a beautifully redesigned and refreshed master bathroom or smaller bathroom space that's designed just for you.
For more information, give us a call to speak with a representative today or fill out our quick online form to schedule a free, in-home price quote.
---
Comments