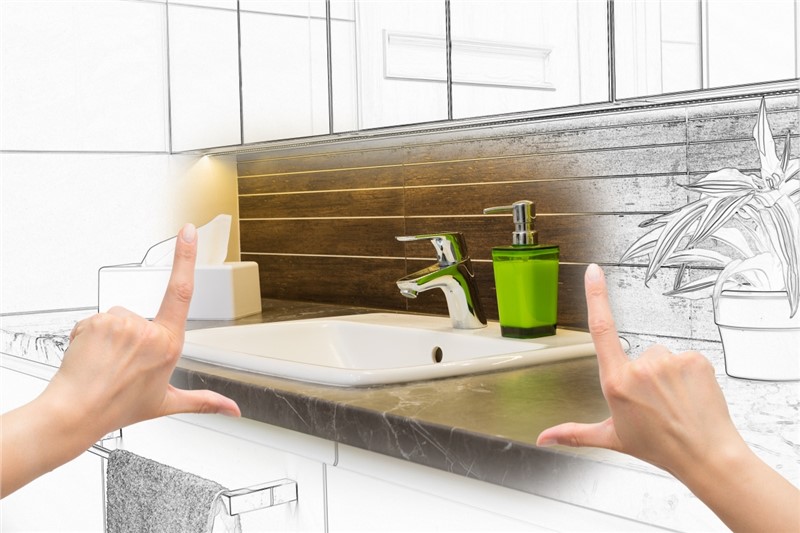 If you're thinking about getting started with a quick and easy home remodeling project this summer but aren't sure where to start, consider the bathroom. Bathrooms are an incredibly important part of the house to maintain, as the hard use and daily wear and tear can quickly turn them into an eyesore.

Bathrooms are also a great part of the house to focus on when you're on a budget, or short on time. Even minimal changes to the bathroom can make a huge impact on the way the entire house looks and feels, and can be an excellent way to freshen up your home and increase its value.

To help you make the most out of your next bathroom remodel, take a look at these simple bathroom remodeling ideas from Bath Planet for transforming your bathroom into a beautiful space to enjoy—without the expense of a traditional bathroom overhaul.
Change the Lighting
If you want to make your bathroom look really modern and sophisticated without spending a fortune, think about lighting. Today's lighting upgrades are high-tech and cost-effective, especially if you're switching to LED lights that save energy. Touch lighting is a popular choice, as well as light switches on a dial that can brighten or dim according to your needs or mood. Consider bright lighting for the vanity and dimmers for the tub or shower area for a spa-like feel.
Shower Stall Replacement
One of the best ways to instantly transform your older, deteriorating bathroom is to replace your shower stall. If your shower stall is filled with mold, mildew, is hard to clean, or fogged up and cloudy, this option is worth looking into. The shower is often one of the largest areas of the bathroom, taking up plenty of space and drawing the eye's attention as a focal point.

A large, unsightly shower stall is an eyesore, and it's very easy to replace. Today's newest shower enclosures are made with high-quality products that are easy to clean and maintain, and that will last a lifetime with very minimal maintenance required. Ask your bathroom remodeling company to see examples of some of the designs they offer, and whether they offer 24-hour, one-day remodel options for replacing shower enclosures.
Accent Walls for Elegant Contrast
A surefire way to add elegance and depth to any bathroom space is to add an accent wall. This can be an accent wall over the toilet, in the shower, or above the bathtub, and many bathroom remodeling companies offer a great variety of selections that will go perfectly with your current bathroom décor.

Consider a faux stone or fiberglass wood fiber walls for easy upkeep and affordability. You can also look into wall surrounds for the shower and bath, which are extremely easy to install (some companies like Bath Planet will replace or install surrounds in just 24 hours).
Replace the Flooring
A brand-new floor can completely refresh your bathroom space—whether you keep the same style or upgrade to something else. One of the hottest trends in bathroom flooring is porcelain tiles designed to look exactly like wood or stone. Porcelain can also be painted to look like other high-end materials, like granite, slate, and marble. Vinyl materials can also be designed to closely resemble premium tiles, which can be a great choice for those that want a truly low-maintenance, water-damage resistant material that will last a long time.

If you already have beautiful floors that have faded or need repainting, you can also have your floors refinished. Wood flooring, for example, can be re-stained or painted to look like it did when it was installed, or you can update the look with a different tone or color.
Beautiful Bathrooms from Bath Planet
If you're interested in remodeling your bathroom on a budget, we'd love to hear from you. For more information on our simple and affordable bathroom renovation services, or to hear more bathroom remodeling ideas, give us a call to speak with a representative from Bath Planet today. If you'd like to get started right away, you can also fill out our online form to request a free, in-home pricing estimate and renovation consultation. Contact us now and get going on turning your dreams for a better bathroom into reality.
---