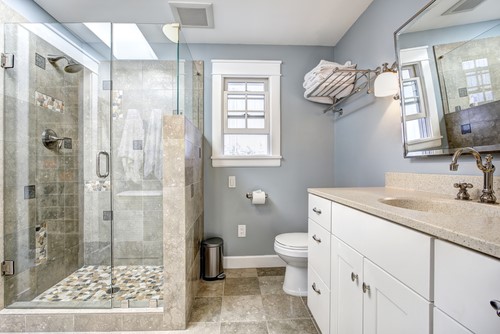 For many homeowners in the process of shower remodeling, choosing new shower walls turns into a game of give-and-take: How much durability am I willing to sacrifice for style? How much style am I willing to sacrifice for affordability? Do I really need to sacrifice my wants and needs at all?
If you're looking to make a more informed decision about your new shower walls, keep reading the quick guide below! We're breaking down four of the most popular shower wall materials to help you choose the one that best meets your needs in form, function, and cost.
Natural Stone
If you frequent the pages of home remodeling magazines, you probably see a whole lot of natural stone showers—whether they're built from slate, granite, marble, travertine, or quartz. There's just something about natural materials that can make a standard shower system look like a high-end spa.
Pros: Natural stone materials are very versatile in terms of styling, and many homeowners find that they increase property value more than other shower wall materials. With natural textures and colors, they exude a sense of peaceful luxury.
Cons: Most types of stone are naturally porous, which means that they must be sealed (and consistently resealed) to keep water out. Natural materials also tend to be very heavy and expensive, making them far less realistic for many families on an average budget.
Glass
While glass shower doors are commonly installed in combination with other types of wall materials, some homeowners love the look of all-glass shower enclosures—especially for modern freestanding showers, rejuvenating steam showers, or small corner installations.
Pros: Glass lends a modern look to any bathroom, and its transparency can make small bathrooms feel much larger and more open.
Cons: Some people dislike the lack of privacy in all-glass showers. Also, if you don't invest in high-quality tempered and treated glass, you might experience problems with cracking, chipping, or water stains over time.
Tiles
Tiles are one of the most traditional of all shower wall materials, a fact that can either work in your favor (when the tiles look chic and retro) or against you (when the tiles are just plain-old out of fashion).
Pros: Tiles today come in many different materials, including porcelain, ceramic, glass, and stone. This wide variety gives you plenty of stylish options at different price points, while the replaceable nature of a tile installation makes most future repairs fairly simple.
Cons: Tile installations typically take more time and expertise to complete, which will increase the overall cost of your shower remodeling project. The grout between tiles is also a favorite breeding ground for mold and mildew, which can require fairly vigilant cleaning to prevent.
Acrylic
Acrylic walls were once viewed as durable and affordable but somewhat lackluster in terms of style and design. However, modern acrylic shower surrounds have come a long way, and they're now a homeowner favorite for many different reasons.
Pros: Acrylic is a highly durable, nonporous material that eliminates many of the problems present in other shower wall materials. It is lightweight, very affordable, and custom-fitted to each shower layout. Reputable companies will offer a long-term guarantee against issues like cracking or warping and can often install new acrylic walls in just one day.
Cons: Because acrylic surrounds are made to order, you'll be limited to the design capabilities of the shower remodeling company you choose. You also won't be able to make any last-minute changes because your entire shower system will already be fabricated and ready to install.
Because shower walls must withstand so much daily water exposure and wear and tear, your choice of material can make a huge difference in lifetime value. If you'd like to discover more about the benefits of acrylic shower wall surrounds, reach out to Bath Planet!
Although we focus on custom-built features made from our signature Bath Planet acrylic, we'd be happy to listen to your needs and give you an honest opinion about whether our shower remodeling solutions might be right for you. Just call us or fill out our online form to set up your free consultation with no sales pressure today.
---