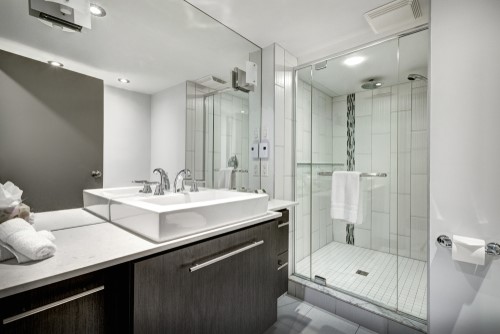 If you've ever stayed at a luxury resort or an upscale hotel before, you've probably marveled at the luxurious comfort and stunning elegance of your guest room or suite. The beauty and perfection of many hotel guest rooms aren't just random accidents—they're the product of expert designers and renowned architects, skilled in the art of creating the perfect space. The bathroom of a hotel guest room or suite is also the result of the work of talented architects and interior designers and can be a major source of inspiration for those looking to update their own bathrooms at home. In fact, many of our bathroom renovations have been directly inspired from the guest room bathrooms of some of the world's finest hotels and resorts—as are many of the premium products we use at Bath Planet.
In this article, our expert team of bath designers shares some of the greatest hotel bathroom ideas used in home bathroom remodeling, to help inspire you with your next bathroom renovation project.
Break Up Large Spaces: Wall Partitions & Wet Rooms
Hotel bathrooms range in size from enormous to miniature, depending on the property. When bathrooms are on the bigger side, it's important to break up the space to keep the area from feeling too empty. To do this, many hotels and resorts use glass, marble, or even stone partitions to separate the shower or tub and toilet areas.
A great new trend that's growing in popularity lately is adding in a wet room. Wet rooms are separated from the vanity or sitting area and are sometimes encased in clear glass. A wet room is designed to get wet and is used for showering or bathing, which keeping out water from the rest of the bathroom space. This is an effective way to section off larger spaces for added aesthetic appeal and functionality.
Clean Lines and Seamless Surfaces
Many of the finest hotel and resort bathrooms are all about class—with a sleek, streamlined look from floor to ceiling. While upscale properties will use finer materials like marble and glass to create this sophisticated look, homeowners on a budget can recreate it using wall, shower and bathtub surrounds.
Wall surrounds and bath liners made with high-quality acrylic materials are affordable and easily installed—and can come in a range of gorgeous designs, colors, and patterns that closely resemble high-end materials.
Eco-Friendly Upgrades for Greener Living
If you've traveled lately, you may have noticed a trend in greener, more sustainable hotel bathrooms. Hotels and resorts are getting smarter about saving the environment, with eco-friendly upgrades in bathroom areas and beyond.
With LED lighting and water-saving faucet and toilet flushing features, hotels are stepping into the modern world of eco-friendly, cost-effective designs. Adapting some of these greener upgrades into your next home improvement project could be a great idea for achieving a more environmentally friendly lifestyle (and lowered utility bills).
Luxurious Minimalism
While hotel bathrooms vary in style, one trend that seems to pop up frequently is minimalism. Modern lines and streamlined layouts are emphasized by space-saving features, such as floating vanities, floating toilets, and hide-away wall storage areas. These features are easy to clean and maintain, and therefore efficient in the hotel setting.
However, it's important to note that most hotels embracing the minimalist style also infuse the look with luxurious details. Hotels and resorts use premium quality materials for long-lasting durability and opulent aesthetic design, and it shows.
An effective way to make the luxurious minimalist look work for those on a budget is to choose to splurge on just one or two of the most eye-catching bathroom features--like the flooring, shower enclosure, or vanity. It's also worth mentioning that many of today's best and strongest bathroom products mimic the look of the more expensive materials at a fraction of the cost.
Beautiful Bathroom Designs from Bath Planet
At Bath Planet, we believe that homeowners shouldn't have to spend a fortune to get the luxurious bathroom they deserve. In fact, we know that affordable bath remodeling is the future—and are proud to provide signature high-quality acrylic products and premium installations at budget-friendly prices. From bathtubs to shower wall surrounds to our beautiful walk-in tubs and more—we'd love to help you get the quick and affordable bathroom remodel you deserve and are waiting to speak with you.
To find out more about our products and services, or to begin planning your next bathroom remodel with us, give us a call to speak with a team member about your next renovation. You can also fill out our online form to contact us for a free, in-home pricing estimate and design consultation. Get started now with your next bathroom remodel from Bath Planet, and get the luxurious bathroom of your dreams for a price you can afford.
---
Comments