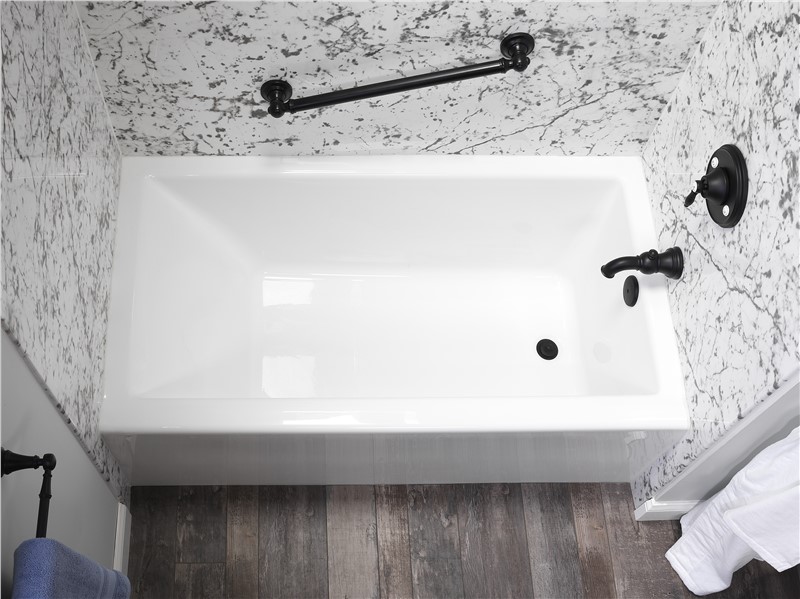 Are you brainstorming cost-effective ways to make your bathroom look and feel fantastic? You might be looking at your current bathtub and wondering whether it's worth it to replace it—or, alternatively, cover it with a bath liner. Before you make this all-important choice, it's a good idea to stop a moment and consider the pros and cons.
What's the Difference?
Replacing a bathtub will entail removing the old fixture, meticulously measuring the space, figuring out a design that works well with your bathroom's unique look, and bringing in a new, modern, custom-built unit to fit neatly in the hole left by your old tub.
On the other side, installing a liner might seem like a cost-reducing alternative. The idea is relatively simple: Leave your existing tub in place and put a new layer on top.
If you want a bathtub replacement because your bath is stained or scratched, then it's easy to see why an aesthetic improvement only would solve your problems. However, if your bathtub is leaky or difficult to use, then it's likely a better idea to invest in something a bit more substantial—such as a replacement tub.
Here are some issues that, if present, should have you considering tub replacement:
Mold and Water Damage: If moisture in the bathing area has created mold or water damage beneath the existing tub, removal of the tub is advised to resolve the issues. If your existing tub needs removal, replacement with a newer, modern style can make a lot of sense.
Uneven Surface: Any existing problems that your current bathtub has in terms of layout, tilt, and design will only get worse by adding a new liner on top. You won't be able to make an uneven surface even again, for example—it'll be the same surface, just a few inches higher.
Versatility of Bathing Area: If space in your bathing area allows, replacing your existing tub with a tub/shower combination can provide additional options for bath preference and accessibility.
Bathtub Replacement Experts
If you're looking for a cost-effective solution to your current bathroom woes, contact the bath design professionals at a Bath Planet dealer. At Bath Planet, we dedicate ourselves to ensuring that your job is completed with integrity, honesty, and skill.
When you're in need of expert bathroom remodeling specialists and high-end, low-maintenance products, remember to trust the experienced professionals at Bath Planet!
---