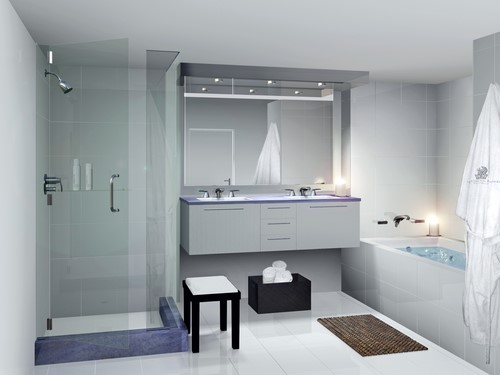 As bathrooms start to age, they become harder and harder to clean. From mildew and water stain buildup to older, harder to clean materials, years of daily use can take quite a toll on older bathrooms. While you can spend some time making these bathrooms look a little nicer, it is nearly impossible to get them back to their original shine.
One of the easiest ways to get your bathroom looking brand new is by renovating your bathroom with new, easier to clean materials. Bath Planet, one of the nation's leading bathroom remodelers, can help you pick the lowest maintenance materials—from beautiful shower and tub replacements, to wall surrounds and more for your bathroom. If you aren't ready to renovate just yet, here are a few tips to help keep your aging bathroom looking clean.
Keep Cleaning Wipes Handy
This next tip not only can help you bring your old bathroom back to its former glory, but also allows you to keep your bathroom clean on a constant basis. Take your favorite disinfecting wipes and put them in an easy to access place in your bathroom. This will allow you to quickly clean your bathroom each day with minimal effort. While you should always take some time to deep clean your bathroom on a periodic basis, this is a nice way to avoid any buildup from day-to-day use.
Create a Cleaning Schedule
To ensure you are keeping up with cleaning your bathroom, make a cleaning schedule and stick to it. A cleaning schedule can be broken up into daily, weekly, and monthly tasks that will make keeping your bathroom cleaner and easier than ever. If you have kids, this is a great way to assign chores to make your schedule flow more efficiently.
Clean the Wet Area Often
Routine cleaning of the wet area is recommended to rid the area of any residues from soaps, shampoos and conditioners. A mild cleaner and non-abrasive cloth/pad is typically safe for most materials (i.e. Dawn dish soap, Formula 409). If you want to disinfect the wet area, make sure the bathroom is ventilated, and apply a mixture of vinegar and water.
Make Repairs Quickly
Lastly, if you experience any problems with your bathroom that require a repair, it is highly recommended to get them fixed as soon as possible. Problems that go unrepaired can cause larger damages that will ultimately cost you more money in the long run. Seek professional help if your repair deals with plumbing to ensure all local codes are met.
Bathroom Remodeling Services
As a leading bathroom remodeling company for years, Bath Planet has provided the highest quality products and services in the industry. With a full staff of expert installers and designers, our team can transform your outdated space into the dream bathroom you have always wanted—with affordable solutions to fit any budget without sacrificing quality.
For more information about our remodeling services, including our one-day remodel at Bath Planet, give our team a call now to speak with a representative over the phone. Or, to get a free, no-obligation estimate in your home, fill out our online form to request an appointment.
---