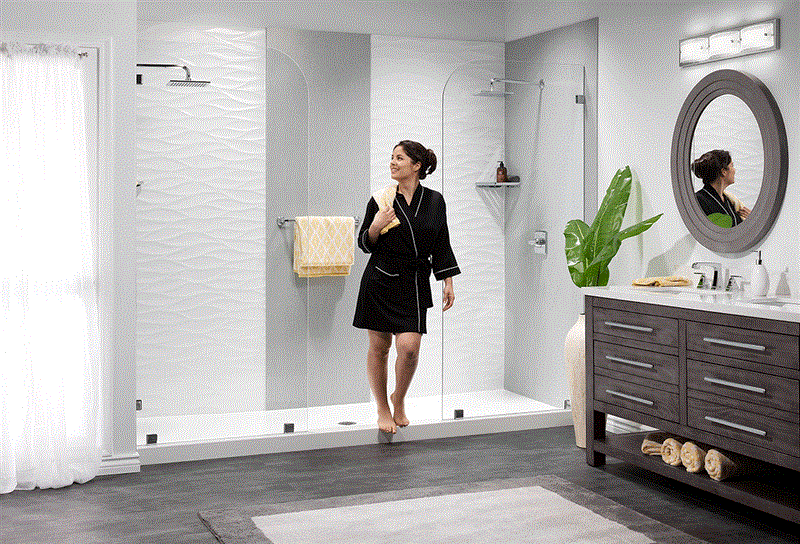 Your bathroom is a space you use every day, designing it to suit your unique style is important. If your current bathroom is no longer meeting your needs, Bath Planet offers customized tub and shower solutions to help you maximize your bathroom.
A modern bathroom design is centered on a simple, clean, and minimalistic feel. Imagine your large or small bathroom, becoming a luxurious and modern sanctuary for function and relaxation. At Bath Planet, we feature an impressive collection of patterns and colors. From sophisticated and elegant REVEAL series to Othello patterns of white walls with black grout, these modern designs can transform your bathroom into a relaxing and refreshing escape.
Whether you have a tub, shower, or both, we can help you customize your bathing space to suit your preferred aesthetic and lifestyle. Read on to discover how you can give your bathroom a contemporary look.
Minimalist Design of Block Patterns
One of the easiest ways to add a modern look to your bathroom is by using simple colors with smooth surfaces or block patterns. At Bath Planet, we feature a wide range of simple styles and colors to help you get the modern and minimalist look you desire.
Our Marazzi and Roman Block patterns will give a modern look to your tub or shower. A modern bathroom does not have to be void of color. You can spice it up with warmer colors. We have wall design colors in almond and sandbar.
Add Some Bit of Nature
Your modern bathroom should not be boring. You can turn your plants into a subtle design statement. This works well if your bathroom is mostly white. By adding a potted plant, you will make your space more interesting and inviting. It is a subtle way to bring in the effect of nature and create an air of serenity.
Get Chic with Accessories
Aside from our wall and base options for your tub or shower, we can help you pull together a modern look with our accessories. We deliver polished brass and chrome finishes for:
Faucets
Grab Bars
Shower Door Frames
Shelves
And More!
Modern Lighting
After installing your shower, you can add some warmth and glow with lighting. Good lighting can transform the most lifeless and cold bathroom into a space filled with warmth.
Get Bold with Built-In Options
You want your tub or shower to have a modern look and feel, but it should be functional as well. We have an impressive selection of built-in options for a more complete and efficient bathing space. These options include:
Classy Shelves for Storage
Safety Grab Bars for Added Stability
Attached Bench for Shower Seating
Shower Footrest for Leg Shaving
Are you ready to get started? Look no further than Bath Planet for a modern bathing area. Give us a call today or fill out our online form to schedule a more in-depth consultation and also get a free project estimate.
---