So, you want to remodel your bathroom. Maybe you need enhanced functionality, an updated style, or just want to add value to your home. Whatever the reason, there are some important things to keep in mind if you want to avoid hard-earned money down the drain.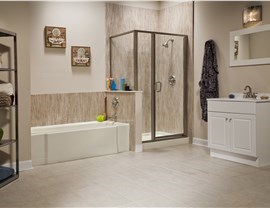 Choose Wisely
Bathroom remodeling can be costly, so one of the most important things you can do is to be careful with your design choices. Some things, like paint for example, can be changed rather easily and inexpensively. But, structural work – not so much. The last thing you want is to invest a lot of money into a bathroom that will leave you feeling unhappy a few years from now. Here are some tips for making sure you make the best choices for you:
If buying a bathtub, sit it in first to make sure it's comfortable.
Collect ideas on Pinterest and revisit them often for several weeks to see if the appeal lasts.
Go to a showroom so you can see products in person.
Make choices that you can live with, even if your purpose is to improve home value.
Plumbing
When planning the bathroom of your dreams, I bet you're swooning over drain pipes, aren't you? Probably not, but plumbing is a very important thing to consider, especially if your bathroom remodel requires additional drainage. Some plumbing issues to keep in mind:
Consider upgrading from standard 1 ½ inch drain pipes to 2 inches to reduce clogging.
If you live in an area that reaches freezing temperatures in the winter, make sure water lines aren't routed through exterior walls.
Walk-in baths might require additional plumbing costs depending on the situation.
Lighting
Lighting might be one of the single most important aspects of a fully-functional bathroom. Whether applying makeup, shaving, or winding down after a stressful day – the right bathroom lighting can make a world of difference. Here are what lighting experts suggest:
Use task lighting to illuminate the areas of your bathroom that require the most light.
Avoid adding lights above the mirror. This casts shadows on your face, aging your appearance and making makeup application and shaving difficult.
Install a dimmer switch for more lighting control.
Cabinetry and Storage
Whether you opt for recessed shelving and medicine cabinets or pull-out drawers, it's important to make sure the storage in your bathroom fits your functionality needs as well as your style. Some things you might not have considered when planning your bathroom remodel include:
Recessed, built-in shelving in your shower is a great way to save space while giving you the perfect place to store your shampoos, soaps, or even candles.
Choose cabinet designs that compliment your needs. Maybe you want a lot of storage, or perhaps you prefer using your space differently.
Under-sink storage is a great way to make the most of your space.
Don't forget towel hooks and toilet paper dispensers when planning your bathroom remodel.
Bath and Shower
Bathtub replacements and shower conversions are some of the most common reasons for bathroom remodeling. Whether you want to update your old tub, install a ADA-approved walk-in bath, or find yourself preferring the simplicity of a new shower, keep these things in mind:
Consider a single-threshold shower to prevent trips and falls when getting in and out of the shower.
If you go with a luxury tub, avoid placing it in a corner. A seasoned bathroom remodeler will help you make the most of your space and your purchase.
Keep in mind the placement and functionality of your showerhead, so you can shower with ease and comfort.
Safety
Grab bars and shower seats aren't just for those with limited mobility. Adding a few safety features is a smart idea no matter who you are – and with the many style options available, you might be surprised at how great these accessories can complement your style:
Shower seats give you a nice place to relax while shaving your legs or just taking it easy.
For smaller showers, consider a folding shower bench.
Make sure grab bars are securely anchored and installed by qualified bathroom remodelers.
Remodeling your bathroom is a great opportunity to enhance your home and your lifestyle. If you're ready to step into the bathroom of your dreams, Bath Planet has the solutions for you. Our premier bathroom remodeling company provides only the highest-quality products paired with unmatched customer service and unbeatable prices!
---
Tags
Bathtub Replacement
Replacement Tubs
Shower Replacement
Bathroom Remodel
Tips & Tricks
---